Don Jaworske named ACS Fellow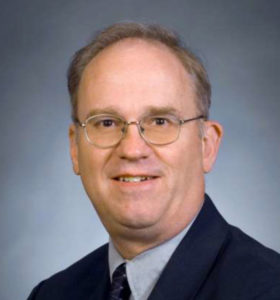 ACS Fellows are selected for their outstanding achievements in and contributions to science, the profession, and the Society. Don and the other 2019 ACS Fellows were announced in the July 15, 2019 issue of C&EN and will be honored at the fall ACS National Meeting in San Diego.
Don retired from the NASA Glenn Research Center (GRC) in 2016 with over 32 years of service. Dr. Jaworske was Project Scientist for MISSE-X responsible for creating and reviewing top-level facility requirements. He was Contracting Officer's Technical Representative for MISSE 7B, formally approved all flight hardware modifications to the Passive Experiment Container, published the MISSE 7B thermal analysis, and organized the delivery and retrieval of GRC flight hardware. He contributed the Thermal Control Paints Experiment. Don was also GRC's MISSE 6A & 6B Experiment Manager responsible for ordering flight hardware, data loggers, and space qualified fasteners. He personally delivered, installed, and retrieved GRC flight hardware. He contributed the Cermet Coatings & Thermal Control Paints Experiment. For MISSE 1-5, he was Experiment Manager, responsible for arranging in-person delivery and retrieval of GRC's MISSE hardware. He contributed the EMI Shielding Materials Experiment.
Dr. Jaworske served as mentor for over a dozen students during his career, including summer students at the college level in Lewis' Educational and Research Collaborative Internship Project (LERCIP) and the American Indian Science and Engineering Society (AISES), as well as high school students via the Glenn High School Internship Program (GHIP), and other programs.
His service to GRC was recognized by NASA via a NASA Fellowship, two special awards presented by astronauts, the Silver Snoopy Award and Space Flight Awareness Honoree Award, and one Space Flight Awareness Team Award.
He is being recognized for optical and thermal control coatings expertise and for influencing strategic investments in Research and Technology at the National Aeronautics and Space Administration's Glenn Research Center and for leadership in the Cleveland Local Section as Chair and as a Trustee for multiple terms. He lead efforts to implement electronic voting and webinar technology for efficient communication.
The ACS Fellows Program is unique among professional societies in that it recognizes a different standard of achievement and service. Specifically, the Fellow of the American Chemical Society (ACSF) designation is awarded to a member who, in some capacity, has made exceptional contributions to the science or profession and has provided excellent volunteer service to the ACS community. For more information go to ACS.ORG.