Cleveland Local Section to celebrate National Chemistry Week Oct. 20-26, 2019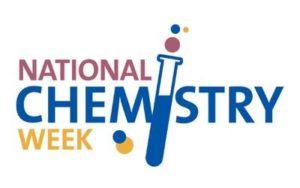 Each year the Cleveland ACS Section celebrates National Chemistry Week (NCW), Oct. 20-26, by creating an outreach Program to Cleveland area students in grades 2-5. Our Program is intended to interest them in chemistry and the sciences. This year's theme (from National ACS) is Marvelous Metals. Our NCW Planning Committee has been meeting all Spring and Summer to create 6 fun, yet educational, "experiments" for the kids to perform based on this theme. Volunteer demonstrators will lead our hands-on Program of experiments at most of the branches of the Cuyahoga County Public Library during NCW.
Our demonstrators use "kits" of materials and a detailed script to present our Program. These kits contain all the materials—reagents, vials, cups, metal samples, stirrers, beryl pipettes, bowls, paper towels, etc.—needed to perform the entire program. We will conduct GAK Day (Grand Assembly of Kits) again this year in room W318 of the Dolan Science Center at John Carroll University on Saturday, September 21, beginning at 8:30 AM until finished.
Volunteers of all ages and backgrounds are invited to help assemble these kits by counting and sorting all these materials, creating/measuring/aliquoting solutions and reagents and packing the materials into the kits. No special expertise is needed. We will serve snacks of all sorts all day and our famous pizza lunch at noon.
Any amount of time that can be donated, from one hour to several, will be appreciated. Please come and be a part of our Section's outreach to kids.
For further information please contact Bob Fowler at [email protected].