2022 Edward W. Morley Award Winner: James D. Burrington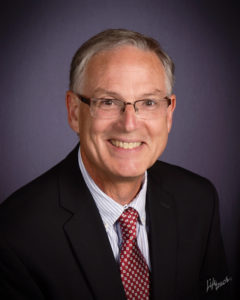 Congratulations to our 2022 winner of the Edward W. Morley award, Dr. James D. Burrington. Currently he is Principal Scientist at NiceChemistry.com and is a Lubrizol Corporate Fellow, Retired.
Dr. Burrington completed his B.S. in Chemistry at John Carroll University and his Ph.D. in Organic chemistry from the Massachusetts Institute of Technology. He began his career at Standard Oil (later BP) remaining there from 1977 until 1993. He then started his distinguished tenure with Lubrizol and was promoted to Lubrizol Fellow (highest technical rank) in 2006. At Lubrizol he was been responsible for applied research in catalysis, process chemistry and the development of new lubricant additives, and most recently, bio-derived sustainable performance chemistries. He retired from Lubrizol in 2021 to pursue independent communication, education and consulting in science and technology topics at NiceChemistry.com where he is founder and principal scientist.
He holds 61 US patents and is author of 47 scientific and technical publications.
On Wed. May 18 we will recognize Dr. Burrington at the Morley Address and Dinner. The event will be held at the Michaelson & Morley Restaurant on the Campus of Case Western Reserve University (Veale Center). After drinks and dinner, Dr. Burrington will present the 2022 Morley Address.
A Mechanistic Journey Through Industrial Chemistry
Mechanism provides a fundamental roadmap for the structures of intermediates and the transition states which connect them to starting materials and products. Mechanistic insights have lead to discoveries in catalysis and performance chemistries, including those for selective oxidation, cationic polymerization, alkylation and gelation for applications in acrylonitrile production, lubricant additives and controlled release. Examples of these innovations and future possibilities for research and teaching in industrial catalysis and green chemistry will be presented.
For more details and to RSVP, click here.